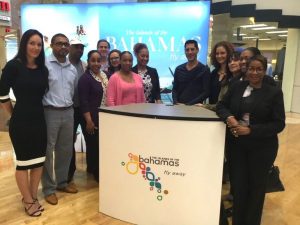 FORT LAUDERDALE, Florida — Over the period January 10 to February 7, 2019, The Islands Of The Bahamas brand is receiving high visibility in a heavily trafficked area of the  Sawgrass Mills Mall South Florida, in what is being called a major brand takeover or mall domination.
Sawgrass Mills Mall, a mega shopping complex located in the city of Sunrise, Florida, is reportedly the largest single-story shopping outlet in the U.S. and one of the largest shopping malls in the country.  The mall boasts some 2.4 million square feet and attracts an annual traffic of 40 million shoppers.
Currently through February 7, Bahamas Banner images are hanging in the corridors of the Mall's Entry Two, Three and Four. Lit boxes with Bahamas images are located at ideal spots in the three entries and in the rotunda where the three entries merge, Bahamas images encircle the area providing a high visibility of the country's brand from all angles.
A Bahamas booth is located near to entrance two – beside the Tommy Hilfiger outlet – and throughout the month is being manned by the staff of The Bahamas Tourist Office (BTO) Florida and its industry partners, including Bahamas Air, FRS Caribbean (Ferry to Bimini), Balearia Caribbean (Ferry to Freeport, Grand Bahama) hoteliers such as Abaco Beach Resort,  and the country's Promotion Boards.