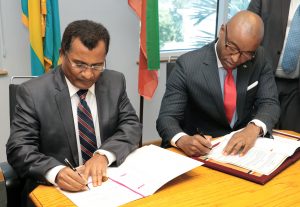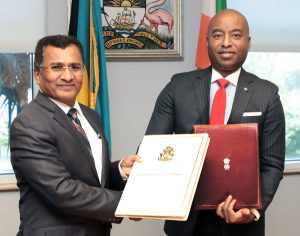 The Ministry of Foreign Affairs of the Commonwealth of The Bahamas is pleased to announce that, during a short ceremony held at the Ministry in Nassau, the Minister of Foreign of The Bahamas, the Honourable Darren A. Henfield, MP, and the Indian High Commissioner to The Bahamas, His Excellency Mude Sevala Naik, signed today, Thursday, 29 November 2018, a Visa Waiver Agreement between the Commonwealth of The Bahamas and the Republic of India for holders of their diplomatic and official passports. This arrangement allows for Bahamian and Indian officials to enter the territory of the other party without the need of a visa.
This agreement facilitates the travel required in the growing talks between the two Commonwealth States, which established bilateral diplomatic relations in 1975.
Following the ceremony, Minister Henfield and High Commissioner Naik took the opportunity to discuss matters of mutual interest, including on the progress made with respect to the implementation of the Visa Facilitation arrangement that allows Indian nationals in possession of a Canadian, Schengen, UK or US visa to enter and visit The Bahamas without the need for a visa. Other matters addressed were technical assistance and membership in international bodies.
Pictured signing the documents are Minister of Foreign Affairs, the Hon. Darren Henfield, right, and His Excellency Mude Sevala Naik, left.  (BIS Photos/Derek Smith)