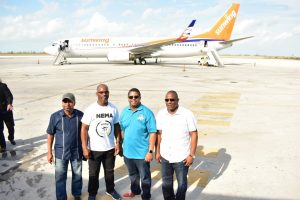 FREEPORT, Grand Bahama — Grand Bahama's tourism got a big boost on Saturday and when Sunwing Airlines made its official return to the island, since Hurricane Dorian.
Deputy Prime Minister and Minister of Finance, the Hon. K. Peter Turnquest; Minister of State for Grand Bahama Senator the Hon. Kwasi Thompson; Minister of Agriculture and Marine Resources, the Hon. Michael Pintard; Minister of State for Disaster Preparedness, Management and Reconstruction, the Hon. Iram Lewis; newly-appointed General Manager of Tourism for Grand Bahama, Stephen Johnson, along with other tourism and government officials, were all on hand on Saturday, December 14, 2019 at the refurbished FBO building at Grand Bahama airport, to welcome the Sunwing flight into Freeport.
"This is an exciting day for Grand Bahama," said Minister Thompson. "This is a major step in the revival of this island's economy."
Some 189 passengers from Montreal and Toronto, Canada, got the "royal treatment" when the flight landed at the airport and they were ushered into the refurbished FBO building, which will temporarily operate as the hub for international flights. In addition to being greeted by government and tourism officials, the passengers were treated to the sweet sounds of Junkanoo.
For most of the passengers it was an exciting first-hand experience and before boarding the bus that would transport them to their hotels, many of the guests spent some time taking photos of the Junkanoo group and some joined in with dancing.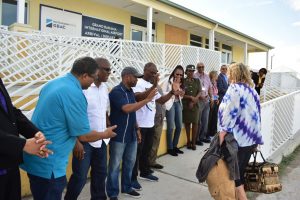 "After what Grand Bahama has been through in the past few months, this is a welcomed moment," said Deputy Prime Minister Turnquest. "Hopefully, this is the re-start of the island's international flight agenda."
Sunwing will provide two flights to Freeport each Saturday for the first month, from Montreal and Toronto, before adding more frequent flights to the island on other days. That calculates to about 400 visitors coming to Freeport each Saturday since Hurricane Dorian hit Grand Bahama in early September.
Other international airlines are expected to resume regular scheduled flights between Grand Bahama and the United States in short order.
Minister Thompson noted that there was much work that went into getting the facility renovated, mobilizing the staff and preparing for the arrival of the flight. He said that everyone involved in the preparations deserved to be thanked for their hard work and dedication.
"There was a lot of work to be done, in terms of getting the airport ready, organizing the groups and many other things. We also understand that Club Fortuna has undergone renovations, and so this has come in time to accommodate these guests.
"There will be regular flights from Sunwing that will continue to come in, so we are very pleased to see them return."
As far as other international airlines coming back into Freeport, Minister Thompson noted Bahamasair was to restart their international flights on Monday (December 16), with an inaugural flight from Freeport to Fort Lauderdale, along with the expected return of American Airlines and a few other international airlines to Freeport.
"This is all another major step as a part of the recovery of Grand Bahama," added Minister Thompson. "Bringing back international flights was vital for Grand Bahama to recover. We've seen international flights come back and we anticipate that this trend will continue."
Stephen Johnson, General Manager for the Bahamas Ministry of Tourism in Grand Bahama says the return of Sunwing to Freeport is a significant move for tourism in Grand Bahama and sends a clear message around the world that Grand Bahama is still open for business.
"Each week, we will have close to 200 passengers come in from Toronto and the same amount coming in from Montreal," Mr. Johnson pointed out. "These visitors will have an opportunity to ride around Grand Bahama, go to the fish fry, visit the beaches, take in some shopping and experience dining in Freeport.
"I would like to see tourism in Grand Bahama continue to grow. I would like to see more flights come in from Canada, the United States and from around the world, where people can see the beauty of this island. Grand Bahama is a special product for us and we want to see more visitors come out to see what we have to offer."
Christine Culmer and Veronica Cuccurullo, Sunwing representatives in Freeport, said that they were excited to see the airline return to Grand Bahama. They are convinced that there is a lot Grand Bahama has to offer visitors and they are happy to be a part of providing that experience for visitors.
"This partnership is great for all of us," said Veronica. "We have a great island here and a lot to offer and this is a start to what can become a major airlift boost for Grand Bahama. So, it is also great for the local economy. This is a start of hopefully bringing more airlift into the island."
"It has been so important to Sunwing to get this back up and running," added Christine Culmer of Sunwing. "It was very important for them to see that the financial status of this island gets uplifted again by employing locals, and they're doing it."