MARSH HARBOUR – Hundreds of residents of Marsh Harbour were in attendance at a town hall meeting Thursday night hosted by the Bahamas Disaster Reconstruction Authority and Local Government.
The Authority has been meeting with residents of Dorian-impacted communities to update them on recovery efforts and to hear their concerns.
Hurricane Dorian was the strongest storm to hit The Bahamians. It devastated central Abaco. Many homes and businesses were destroyed.
As a result, debris removal and waste management remain challenges.
Katherine Forbes-Smith, Managing Director of the Authority, said her agency is reviewing debris removal contracts issued in the immediate aftermath of the storm.
Where necessary, she added, noting residents' concerns, contracts will be varied to ensure work takes place in an efficient and effective manner.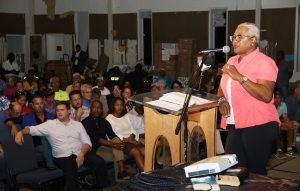 Katherine Forbes-Smith, Managing Director, Bahamas Disaster Reconstruction Authority, addressing residents at a town hall meeting at New Vision Ministries, Marsh Harbour, Abaco on January 16, 2020. (Patrick Hanna/BIS)
"We have those contracts in hand. We are reviewing those contracts very quickly," said Mrs. Forbes-Smith.
"We are looking at the entire island of Abaco to see where gaps are, where people are not cleaning.
"The terms of reference of those contracts are going to be changed to make sense as far as we're concerned to meet the demand for what people expect and what the Government expects."
The Government and United Nations Development Programme hosted a Private Sector Pledging Conference in New Providence on Monday. Foreign governments, multilateral organizations, private companies, NGOs and wealthy individuals pledged $1.5 billion to the Dorian reconstruction effort.
The pledges included initiatives in homebuilding and repair; educational assistance; renewable energy partnerships; relief aid; grants; direct assistance to storm victims; parks restoration; loans and financing.
Residents were keen to hear about the conference.
Mrs. Forbes-Smith explained the various types of assistance offered, emphasizing that the Government has to review each pledge to determine what would be best for the residents of affected communities.
"The total amount pledged was $1.5 billion," she said.
"I want people to understand that that is not just cash. That's in-kind donations. That's technical assistance. That's a number of things."
Wendell Grant, Authority board member and engineer, explained that due to the extensive damage caused by Dorian The Bahamas cannot rebuild alone.
He said: "If we were to take a look at Marsh Harbour and in particular look at some of the surrounding communities and ask ourselves how we can we improve it, what can we do, one of the things that needs to be done in these communities to make sure the communities operate and function in ways that are not just improvements for today but improvements for future generations, the time and the resources that are necessary for that to happen in the shortest time, we have to go outside of what we currently have in country."
Marsh Harbour residents raised concerns about police presence. Dorian destroyed much of the Bahamas Power and Light (BPL) infrastructure in the area.
BPL is working to restore power. Currently, nighttime darkness has added to residents' security concerns.
Chief Superintendent of Police Bruce Arnett said more police are on the ground and they are actively patrolling in teams.
Arnett asked residents to make complaints to police if thefts occur. Those complaints would help police to know whose items they recover when culprits are caught.
Police have recovered a significant number of stolen items, he added. However, in the absence of complaints it's not always clear whose items were recovered.
James Albury, Central and South Abaco Member of Parliament, expressed his confidence in the ability of the Abaco people to rebuild and recover in spite of the devastation from the storm.
"We will overcome this," he said. "We'll keep working to improve little by little and day by day. But if it is any of us that can do it, it's us."
Mrs. Forbes-Smith also informed residents of the Government Homes Repair Programme for structures damaged or destroyed by Hurricane Dorian.
The programme is scheduled to begin the first week of February. Residents will be able to use vouchers to purchase building materials and other items related to home restoration.
There will be four categories for which vouchers will be granted. Residents whose homes were assessed with minimal damage will be eligible for $2,500 in vouchers; those with medium damage will be eligible for $5,000 in vouchers; those with major damage will be eligible for $7,500 in vouchers; and those whose homes were destroyed will be eligible for $10,000 in vouchers.
The Authority will continue hosting town hall meetings in communities affected by Hurricane Dorian during the next few weeks.