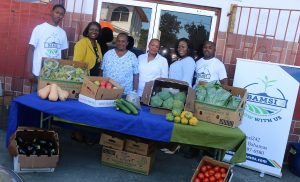 'BAMSI Gives Back' to Great Commission Ministries: Supporting one of the longest serving charitable agencies in New Providence team, BAMSI donated some 12 cases of produce as part of its 'Gives Back' initiative on Thursday. Pictured are members of the BAMSI Gives Back team with officials from Great Commission Ministries, including Executive Director Minalee Hanchell (second from left).
Nassau, Bahamas, February 22, 2019: Community involvement remains a core principle for The Bahamas Agriculture and Marine Science Institute (BAMSI), driving initiatives such as the 'BAMSI Gives Back' programme. In its latest effort, the agriculture agency on Thursday donated 12 cases of fresh produce, including broccoli, tomatoes, lettuce and papaya, to Great Commission Ministries (GCM), Wulff Road. The ministry's soup kitchen provides some 300 meals Monday to Friday and also delivers food packages to senior citizen homes and other care facilities.
A multi-pronged project, 'BAMSI Gives Back' is a way for the Institute to help employees connect the dots between the work they do and building a stronger, food secure community. Ultimately, the hope is that the experience will help build a more productive and engaged workforce.
The give back programme also helps BAMSI maintain a level of accountability and transparency as it stems the tide of wastage by redirecting wholesome, healthy and locally grown fruits and vegetables to Bahamians who need it the most. As part of its new mandate, BAMSI will be donating quality surplus on a regular basis to agencies and charitable organizations that are on the front lines in the fight against hunger.
The third 'give back' for 2019, Great Commission Ministries soup kitchen was started in 1987 under the leadership of its President, Bishop Walter Hanchell and his wife, Executive Director Minalee Hanchell. Along with the soup kitchen, the ministry offers multiple social programmes – including youth programmes, substance abuse programmes, and conflict avoidance/resolution sessions. Great Commission also operates a homeless shelter.