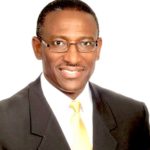 V. ALFRED GRAY
Vergeneas Alfred Gray (V. Alfred Gray) was born in Hard Hill on the Island of Acklins, The Bahamas, on August 5, 1951 to the Late Charles W. Gray and the Late Vera Darling (nee Collie).
Mr. Gray began his formal education at Hard Hill Public School in Acklins, continued at St. Anne's High School in New Providence, and later obtained a Bachelor of Science (BSc) degree from the University of Pennsylvania, USA. After completing his bachelor's degree, Mr. Gray earned a Teacher's Certificate from the Bahamas Teachers' College in 1972 and served as the Principal of the All-Aged School in Acklins until 1974. In that same year, he was appointed as a Family Island Commissioner/ Administrator serving several  Family  Islands  throughout  The  Bahamas including Abaco, Grand Bahama, Crooked Island, Acklins and Exuma. With a thirst for knowledge and inspired by the work he was doing, Mr. Gray, decided to pursue further studies in Law in 1980. He was subsequently called to The Bahamas Bar in 1985. Upon being called to the Bar, he launched his law firm, V. Alfred Gray & Co., where he currently practices as a Senior Partner with the firm.
A community-minded son of the soil, Mr. Gray has served the nation of The Bahamas in numerous capacities. He first entered the halls of its Honorable Parliament, the House of Assembly, in 1987, when he represented the fine people of the Carmichael constituency. He served there until 1992. In 2002, he was re-elected to the House of Assembly and proudly represented his native homeland of Acklins under the grouping of islands called "MICAL" (Mayaguana, Inagua, Crooked Island, Acklins and Long Cay), which representation spanned until 2017. With this, Mr. Gray has humbly served a total of 20 years in Parliament.
In addition to the honor of serving the public as a Member of Parliament, Mr. Gray served twice in the Cabinet of The Bahamas under the governing administration of the Progressive Liberal Party. From 2002-2007, he served as Minister of Local Government & Consumer Affairs as well as Minister of Agriculture, Fisheries & Local Government, and as Minister of Agriculture & Marine Resources from 2012- 2017.
He is married to Bessley Gray (nee Williamson), and is a proud father and grandfather.
He also serves as a Deacon at the New Destiny Baptist Cathedral, in Nassau, Bahamas, and his hobbies include fishing, flying, music, reading, history and world politics.